Programm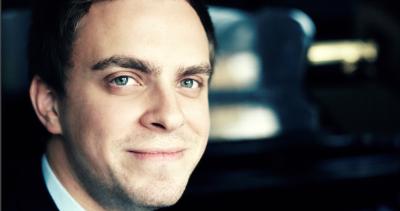 &copy Bilder: Balazs Borocz/Pilvax Studio

Abendprogramm (PDF)
Programm

Flyer (PDF)
Flyer

Plakat (JPG)
Plakat

Plakat (PDF)
Plakat

Kalendereintrag
Kalendereintrag
<< Zurück zur Übersicht
Sonntag, den 25.10.2020 um 17:00 Uhr in Bremen
"Weltklassik am Klavier - die große - und die schönste - Sonate von Schubert!"
SAM ARMSTRONG
HAYDN, SZYMANOWSKI und SCHUBERT
"Weltklassik am Klavier - die große - und die schönste - Sonate von Schubert!"FRANZ JOSEPH HAYDN
Sonate Nr. 46 As-Dur Hob. XVI:46
I. Allegro moderato
II. Adagio
III. Finale. Presto
KAROL SZYMANOWSKI
Variationen b-Moll op. 3
- Pause -
FRANZ SCHUBERT
Klaviersonate Nr. 19 c-Moll D 958
I. Allegro
II. Adagio
III. Menuetto: Allegro - Trio
IV. Allegro
SAM ARMSTRONG
"Ein bedeutendes neues Talent", schrieb "International Piano" nach dem Debüt von Sam Armstrong in der Wigmore Hall in London. Der englische Pianist begeistert vor allem mit seinen Interpretationen, die durch seine großartige Individualität ein eigenes Leben beginnen. Sam Armstrong ist inzwischen auf bekannten Bühnen wie z.B. im Amsterdam Concertgebouw, der Carnegie Hall New York, im Seoul Arts Centre, Esplanade Singapore und der Royal Festival Hall aufgetreten. Armstrong gewann Preise bei Wettbewerben wie dem Porto International Piano Competition, Brant International Piano Competition und dem Epinal International Piano Competition in Frankreich. Er studierte am Royal Northern College of Music in Manchester und am Mannes College of Music in New York und nahm u.a. an Meisterkursen mit Leon Fleisher, Murray Perahia, and Mitsuko Uchida teil.
"Weltklassik am Klavier - die große - und die schönste - Sonate von Schubert!"
This program explores different stages of the compositional process through three great works. Szymanowski's wrote his early, magical Variations, Op. 3 as a student but already showed the harmonic and textural imagination he would later develop in remarkable ways. Haydn's A-flat Sonata Hob. XVI:46 is an exuberant middle-period work, which is brilliantly inventive and has a particularly touching slow movement. The piece was written during a period of new confidence after Haydn's promotion to full Kapellmeister in Esterhazy, a job that allowed him the freedom to truly develop his style and experiment further. Lastly, Schubert's monumental Sonata in c-minor, D. 958 - one of his last works - is both intensely dark (showing a debt to Beethoven, who died the previous year) and deeply personal; it shows a master at the apotheosis of his style.
>> Jetzt reservieren!